The big debate in the first T20I was on India's use of leggie
Yuzvendra Chahal
as
concussion substitute
for
Ravindra Jadeja
after the all-rounder got a knock on his helmet. Jadeja sizzled with the bat and the move to replace him rubbed further salt into
Australia
's wounds as Chahal turned the game on its head with the ball.
However, while batting, it was not a knock on the head but a pulled hamstring which plagued Jadeja.
He hit Josh Hazlewood for 23 runs in the 19th over, but appeared to be in great strife after the third ball. The team physio came rushing out and had to strap him up. In the next over, bowled by Mitchell Starc, Jadeja received a knock on the helmet.
The batsman didn't show any immediate sign of discomfort.
However, according to skipper Kohli, Jadeja came in after his knock feeling dizzy, and the Indian team management decided to use the concussion substitute rule to replace Jadeja after a thorough medical inspection by the doctor.
Following the replacement, Australia coach Justin Langer was seen having an animated conversation with match referee David Boon. Skipper Aaron Finch was also present. The rule states that "there shall be a like-for-like replacement for the player who has sustained the concussion or suspected concussion".
While some former cricketers and commentators questioned India's decision, Australian skipper Aaron Finch played down the issue, saying medical opinion cannot be challenged.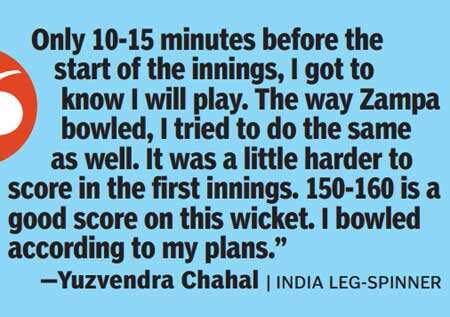 Finch's teammate Moises Henriques, however, questioned whether India's replacement was a like-for-like one.
"The concussion rule is fine. There is no doubt he (Jadeja) got hit on the head. If a player gets hits on the head and the doctor feels he is concussed, 100% he needs to be replaced. It's just that whether it is like-for-like. One is an allrounder and a gun-fielder and the other, a bowler who bats (at) 11," said Henriques replying to a question by TOI.
"That's the only thing for me. In terms of moving forward and making the game fair, like-for-like replacements are the way to go," he added.
Sanju Samson clarified that it was on the team physio's advice that India used the concussion substitute.
"When he came back to the dressing room, he was asked by the physio how he felt. He said that he was feeling a little dizzy. He is under observation as per team doctor's advice," Samson said.