India will carry, with great confidence, two positives from the comfortable victory over
Australia
at the
Manuka Oval
in
Canberra
on Wednesday. First, the self-belief that they can beat this Australian team. Second, the self-belief that they can actually win a toss!
3rd ODI: FULL SCORECARD
Two things that hadn't happened since
Virat Kohli
and his team landed there last month, happened in an inconsequential one-dayer that the visitors won by 13 runs. India won a toss and a game.
The uncertainties of white-ball
cricket
, over the years, have gone up many notches given the innovations in the game. And yet, the oldest uncertainty of them all — the flip of the coin — has made these contests conversely predictable.
Manuka Oval behaved on the lines of the SCG, except the boundaries were relatively shorter, and therefore promised that bit more. On a track as easy-going as this one, India could have — or rather should have — ended up with a far better score than the eventual 302-5 they managed. To think that 348-8 had been the lowest score here in the last four ODIs before this one, and the lop-sided toss-dictated result had already said a lot about this venue.
Australia tried doing things differently, handing Glenn Maxwell the new ball alongside Josh Hazlewood. There's little Maxwell hasn't been able to do in Aussie colours after all.
Shikhar Dhawan looked like he had walked out expecting a lot of pace. It all appeared a bit awkward right from the word go and the left-hander fell at 16 to a bizarre driving attempt.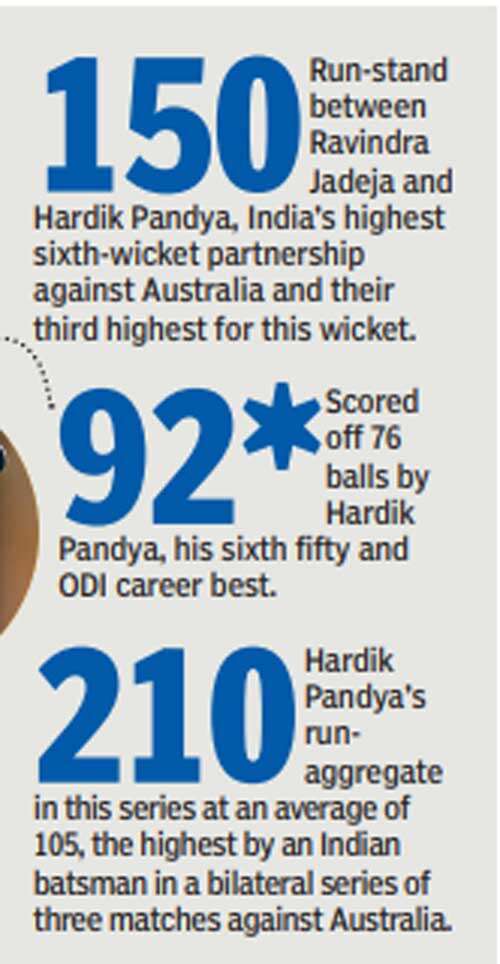 The young Shubman Gill played far more freely, allowing Kohli to take his time to settle down. However, it wasn't until the unbeaten sixth-wicket partnership between the irrepressible and in-form Hardik Pandya and an equally belligerent Ravindra Jadeja that the Indian team finally found the muscle to go past 300 runs.
From 152-5 and close to 18 overs left – by the time Kohli had departed – India had a lot of work to do to stay in the game.

Shreyas Iyer and KL Rahul, the expected batting bulwarks, had seen another bad day at work. On Pandya and Jadeja's shoulders rested the responsibility and they delivered. It wasn't going to come any easy, not with the way the Aussies fielded. India barely crept past 200 post the 40th over and it would take another 25 to 30 deliveries for this partnership to cross 100 runs and bloom.
An upper-cut six over point from Pandya off Abbott followed by a six over mid-wicket from Jadeja off Josh Hazlewood brought out the script India were looking for when they had elected to bat first. Even if it came a little late in the day, it would end up providing the necessary impetus.

Getting 303 would be easy for Australia, it first appeared. The first big ray of hope came when Marnus Labuschagne fell early. A bigger shot in the arm came five overs later, when Steve Smith departed. Skipper Aaron Finch stayed on, but the chase got relatively sluggish.
The Aussies, for the first time in a week, were under pressure. That is precisely what India had to do in this game, regardless of the result.
Despite some very poor fielding and catches dropped, and another gem of a half-century from the big-hitting Maxwell, India cruised through. Now that they have one win to account for, the T20s can begin on a fresh note.